WAKEBOARD CAMP
WAKEBOARD CAMP
Group training form
Ordinary summer camps will no longer appeal to your children because they want to experience adrenaline? WAKE CAMP Happy Kids is the best option!
In Ambassador Tomáš Jadrny, the children have the best teacher you can see. Tomáš is an experienced coach and multiple vice-champion of the Czech Republic in wakeboarding.
During the camp, the children will learn the theory of wakeboarding, they will train dry starts on the lift, they will work on technique and balance to perform the first tricks at the end! There will also be a trip to the multisport arena Hangair, where children will develop their motor skills, which they will also use on the wakeboard.
But WAKE CAMP is not only for beginners, we dedicate an individual approach to each child and will make a wakeboard master from it! Every day the kids enjoy a lot of fun and water, so let's do it together!
... no needs to worry, under supervision of qualiffied instructors is wakeboarding absolutely safe!
 Where:             Wakelake Zlaté piesky, Cesta na Senec
Camp terms:   12.07. - 16.07.2021
                            02.08. - 06.08.2021
                            16.08. - 20.08.2021
 AGE:                   9 - 17 years
You need for the camp:
copy of insurance card

 cap

 sport clothes: t-shirt, shorts, trausers, hoodie,  trainers,

swimsuit, flip flops, towel
IMPORTANT INFORMATIONS
bring copy of insurance card
don´t forget cap
 arrive at least at 8:45am
 food is secured directly at sport areal
drinking regime is secured throughout the whole day
Payment
5 days summer camp  239€   229€/child
Discount till 30.04.2021 (activation by coupon)
1 installment   -  10€         (HAPPY10)

2 installments -    5€         (HAPPY5)

 without deposits 0€ 
after using the discout, please make a payment till the end of april
payment is made to the account according to the instructions you will receive by email
price includes: qualified coaches, food and drinking regime for entire day, training tools, trip, medals…
in case of non-participation due to illness, travel, etc. we do not return the membership fee for the camp. Reimbursement is possible in exchange for another camp at another time, of course, if camp will have free places and capacity won´t be exceed.
GUARANTEE of refunds in case of worsening of the pandemic situation or cancellation of the camp by OZ
GUARANTEE OF SECURE camps. We adhere to strict hygienic standards during implementation.
Camps have a weekly character (from Monday to Friday). Payment is fix, you can't choose days separately.
Contact: 0917 303 658, info@happykids.sk
WE ARE LOOKING FORWARD TO YOU!!! :)  
Actualities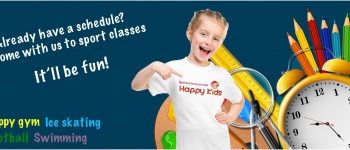 I AM ALSO WITH HAPPY KIDS
Right now you can sign up your kids on favorite sport classes! More info on main page! Kruzky kopia 2.
More info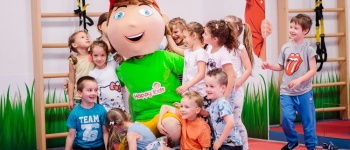 Gymnastics also in Petržalka
Gymnastics also in Petržalka! Dom kultúry Ovsište has become another place for our gymnastics courses. Group trainings for kids from 4 to 8 years. Every Wednesday from 17:30 to 18:30.
More info
Course terms

10.7 - 14.7.2023

Group exercises


9 - 17 rokov

Your price

269.00 eur / 5 dní

Course terms

31.7 - 4.8.2023

Group exercises


9 - 17 rokov

Your price

269.00 eur / 5 dní

Course terms

14.8 - 18.8.2023

Group exercises


9 - 17 rokov

Your price

269.00 eur / 5 dní