Swimming pool SPP Ružinov
Swimming pool SPP Ružinov
Group training form
The swimming course is suitable throughout the year. Thanks to different water and air temperatures, the body is hardening. Swimming is one of the best forms of rehabilitation for the spine problems and it also brings relaxing effects for kids, improves their coordination and increases the feeling of satisfaction and happiness.
Our swimming methodology is prepared to prevent stressful situations from fear of water. Our trainers approach individually to every single child. Kids will learn different styles of swimming and our effort is to improving their performance. That is why we provide both collective and individual swimming courses.
Swimming pool in Ružinov is specific with its warm 31 degree water, which is ideal for kids aged from 3 to 5 years. Underwater world motives around the pool are interesting for your kids eyes.


Lesson structure 
- warm up
- swimming exercises 
- sauna
Swimming pool informations
Pool length: 16m
Water temperature: 31 degrees Celsius
Address: Mlynské Nivy 44
Actualities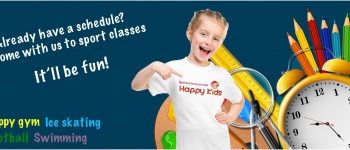 I AM ALSO WITH HAPPY KIDS
Right now you can sign up your kids on favorite sport classes! More info on main page! Kruzky kopia 2.
More info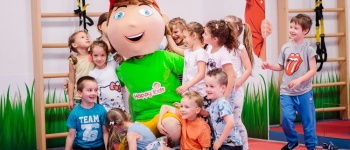 Gymnastics also in Petržalka
Gymnastics also in Petržalka! Dom kultúry Ovsište has become another place for our gymnastics courses. Group trainings for kids from 4 to 8 years. Every Wednesday from 17:30 to 18:30.
More info
Course terms

Pondelok 17:00 (11.9 - 27.11)

Group exercises


4.- 6 rokov

Your price

132.00 eur / 11 Hour

Course terms

Utorok 17:00 (12.9 - 28.11)

Group exercises


4 - 6 rokov

Your price

132.00 eur / 11 Hour

Course terms

Streda 17:00 (13.9 - 29.11)

Group exercises


4 - 6 rokov

Your price

132.00 eur / 11 Hour

Course terms

Štvrtok 17:00 (14.9 - 30.11)

Group exercises


4 - 6 rokov

Your price

144.00 eur / 12 Hour

Course terms

Piatok 17:00 (22.9 - 1.12)

Group exercises


4 - 6 rokov

Your price

120.00 eur / 10 Hour

Course terms

Utorok 18:00 (26.9 - 28.11)

Group exercises


4 - 6 rokov

Your price

108.00 eur / 9 Hour