FISHING CAMP
FISHING CAMP
Group training form
Are you in love with nature? Fishing is your passion? Than Happy Kids fishing camp is here for you! Eko park relax is defined by beautiful nature and it's ideal place for fishing. Carp is the most common (largest is over 20kg), but all kinds of fishes can be found here (Amur, mascalonge, pikeperch, sheat fish, crucian). One night camping with night fishing from Thursday to Friday.
CAMP is for kids from 7 to 15 years!!!
VENUE      Lotos Lake, Veľké Úľany
TERMS      19.07. - 23.07.2021 
                   16.08. - 20.08.2021
AGE            7 - 15 years
THINGS YOU NEED FOR CAMP
 copy of insurance card
 cap or hat
 sport clothes: t-shirt, shorts, joggers, hoodie, trainers, football shoes, indoor trainers
IMPORTANT INFORMATIONS
don't forget cap 
bring copy of insurance card
food and drinking regime is secured throughout the whole day
PROGRAM
Kids will learn both theoretical and practical fishing techniques. They will also learn how to prepare fishing equipment properly for each of fishing techniques. Other activities like farm tour, ball and motion games, survival in nature and fishing competition.
6:45 – 7:00 – kids arrival at Kysucká 4
7:00 – 7:45 -  arrival to Ekopark areal
8:00 – 8:15 – outpost preparation 
8:15 – 12:00 – fishing techniques
12:00 – 12:30 – lunch
12:30 – 13:30 – attendant activities 
13:30 – 14:30 – survival in nature
14:30 – 16:45 – change of fishing techniques 
16:45 – 17:00 – leaving areal
17:00 - 17:30 - arrival to Kysucká 4
Thursday:
17:00 - 20:00  - fishing 
20:00 - 20:30  preparation for nigh fishing + survival in nature 
20:30 - 21:00 preparation of campfire
21:00 - fishing at the campfire  
Friday:
fishing competition and BBQ/camp assessment
ACCOMODATION
- this is a day camp, but on Thursday we are staying in a tents, right in the camp
PAYMENT
 

5 - days summer camp   

189€

   179€/child
Discount till 30.04.2021 (activation by coupon)
1 installment   -  10€         (HAPPY10)

2 installments -    5€         (HAPPY5)

 without deposits 0€ 
after using the discout, please make a payment till the end of april
payment is made to the account according to the instructions you will receive by email

price includes: certified instructors, food and drinking regime for entire day, training tools, farm tour, certificate,medals …

in case of non-participation due to illness, travel, etc. we do not return the membership fee for the camp. Reimbursement is possible in exchange for another camp at another time, of course, if camp will have free places and capacity won´t be exceed.
GUARANTEE of refunds in case of worsening of the pandemic situation or cancellation of the camp by OZ
GUARANTEE OF SECURE camps. We adhere to strict hygienic standards during implementatio
Camps have a weekly character (from Monday to Friday). Payment is fix, you can't choose days separately.
Contact: 0917 303 658, info@happykids.sk
WE ARE LOOKING FORWARD TO YOU!!! :)
Actualities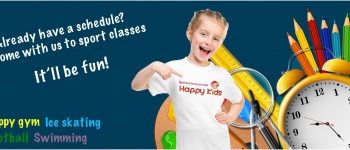 I AM ALSO WITH HAPPY KIDS
Right now you can sign up your kids on favorite sport classes! More info on main page! Kruzky kopia 2.
More info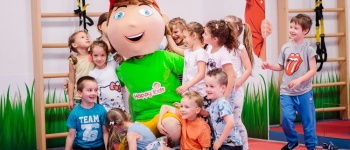 Gymnastics also in Petržalka
Gymnastics also in Petržalka! Dom kultúry Ovsište has become another place for our gymnastics courses. Group trainings for kids from 4 to 8 years. Every Wednesday from 17:30 to 18:30.
More info
Course terms

17.7 - 21.7.2023

Group exercises


7 - 17 rokov

Your price

209.00 eur / 5 dní

Course terms

14.8 - 18.8.2023

Group exercises


7 - 17 rokov

Your price

209.00 eur / 5 dní