MULTISPORT Camp Petržalka 7-17y.
MULTISPORT Camp Petržalka 7-17y.
Group training form
Day camp for schoolers from 7 to 17 years! Camp will be situated in ZŠ Dudova 2 in Petržalka, where it waits for children daily from 08.00 to 16.30 rich sports program.
This day camp starts everyday with taking children by advenced animators/instructors. After light breakfast there will be a sport program, where can children try different kinds of sport. Children will have swimming trainings, In-line skating, athletic, gymnastic, they won´t be missing ball and outdoor games, geocaching...
There is always break between the activities. During sports, we make sure that children follow the drinking regime.
The camp will be ended by big BBQ!
Where: ZŠ Dudova, Petržalka
AGE:  7-17 years
Camp terms:
05.07. - 09.07.2021
12.07. - 16.07.2021
09.08. - 13.08.2021
16.08. - 20.08.2021
Thing you need for camp
 copy of insurance card
 cap

 sport clothes: t-shirt, shorts, joggers, hoodie, trainers 

 swimsuit, towel, swim cap, swim glasses, flip flops
 inline skates, helmet, protectors
Important informations:
please spread kids with UV filter cream in the morning
 don't forget cap 
 bring copy of insurance card
 arrive at least at 8:45am
 food is secured directly at sport areal
drinking regime is secured throughout the whole day
Payment
5 days summer camp  150€   140€/child
Discount till 30.04.2021 (activation by coupon)
1 installment   -   10€         (HAPPY10)
2 installments -     5€         (HAPPY5)
 without deposits 0€ 
after using the discout, please make a payment till the end of april

payment is made to the account according to the instructions you will receive by email

price includes: qualified coaches, food and drinking regime for entire day, training tools, trip, medals…

in case of non-participation due to illness, travel, etc. we do not return the membership fee for the camp. Reimbursement is possible in exchange for another camp at another time, of course, if camp will have free places and capacity won´t be exceed.

GUARANTEE of refunds in case of worsening of the pandemic situation or cancellation of the camp by OZ
GUARANTEE OF SECURE camps.

 We adhere to strict hygienic standards during implementation.
Camps have a weekly character (from Monday to Friday). Payment is fix, you can't choose days separately.
Contact: 0917 303 658, info@happykids.sk
WE ARE LOOKING FORWARD TO YOU!!! :)  
Actualities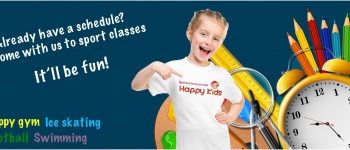 I AM ALSO WITH HAPPY KIDS
Right now you can sign up your kids on favorite sport classes! More info on main page! Kruzky kopia 2.
More info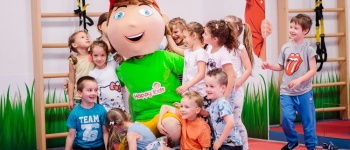 Gymnastics also in Petržalka
Gymnastics also in Petržalka! Dom kultúry Ovsište has become another place for our gymnastics courses. Group trainings for kids from 4 to 8 years. Every Wednesday from 17:30 to 18:30.
More info
Course terms

3.7 - 7.7.2023

Group exercises


7 -17 rokov

Your price

179.00 eur / 5 dní

Course terms

17.7 - 21.7.2023

Group exercises


7 - 17 rokov

Your price

179.00 eur / 5 dní

Course terms

7.8 - 11.8.2023

Group exercises


7 - 17 rokov

Your price

179.00 eur / 5 dní

Course terms

14.8 - 18.8.2023

Group exercises


7 - 17 rokov

Your price

179.00 eur / 5 dní