Plavecký tábor Železná studnička 5 - 17rokov (denný)
Plavecký tábor Železná studnička 5 - 17rokov (denný)
Group training form
Špecializovaný plavecký tábor pre deti a mládež vo veku 5-17 rokov! Hlavný stan budeme mať na Železnej Studničke, kde na deti čaká denne od 08.00 do 16.30 hod. bohatý športový program. Každý deň deti absolvujú plavecký tréning v bazéne FTVŠ a ďalšie tréningy na zlepšenie kondície, vytrvalosti a celkovej športovej zdatnosti!
Športový denný tábor pre deti sa začína každý deň prevzatím detí skúsenými animátormi/inštruktormi. Po ľahkých raňajkách nasleduje presun na plaváreň a plavecký tréning. V poobedných hodinách deti absolvujú doplnkové aktivity k plávaniu - atletické, gymnastické a pohybové tréningy. Chýbať nebudú ani loptové a outdoorové hry.
Medzi jednotlivými aktivitami je, samozrejme, oddych. Počas športovania dbáme na to, aby deti dodržiavali pitný režim. Tábor ukončíme poriadnou opekačkou!

VEK: 5-17 rokov.
TERMÍNY: počas celého leta
ZOZNAM VECÍ DO ŠPORTOVÉHO DENNÉHO TÁBORA
 prefotená kartička poistenca
 pokrývka hlavy - šiltovka, klobúk
 športové oblečenie: krátke tričko, krátke nohavice, tepláky, mikina, tenisky
 plavky, osuška, plavecká čiapka, okuliare, šľapky
DÔLEŽITÉ INFORMÁCIE:
 prosíme rodičov, aby deti vždy ráno nakrémovali krémom s UV filtrom
 pribaliť pokrývku hlavy - šiltovka, klobúk
 priniesť prefotenú kartičku poistenca
 príchod detí najneskôr do 8.45 hod.
 strava je zabezpečená priamo v športovom areáli
 pravidelný pitný režim je zabezpečený počas celého dňa
PLATBA
týždenný letný tábor    159€/dieťa
Členský príspevok za tábor je potrebné uhradiť čo najskôr po objednávke tábora.

v cene je zahrnuté: kvalifikovaní tréneri, celodenná strava, pitný režim, športové pomôcky, bazén, medaila...
členský príspevok za tábor, v prípade neúčasti z dôvodu ochorenia, odcestovania a pod., nevraciame. Náhrada je možná v inom termíne tábora, samozrejme, pokiaľ sa nájdu voľné miesta a nebude presiahnutá ich kapacita. 
platba prebieha na účet podľa inštrukcií, ktoré dostanete mailom
GARANCIA vrátenia peňazí v prípade zhoršenia pandemickej situácie, alebo zrušenia tábora zo strany OZ
GARANCIA bezpečných táborov. Pri realizácii dodržiavame prísne hygienické štandardy.
DENNÉ TÁBORY sa uskutočňujú v týždňových turnusoch (od pondelka do piatku). Príspevok za tábor je fixný (nie je možné objednať len niektoré dni).
Kontakt: 0917 303 658, info@happykids.sk
TEŠÍME SA NA VÁS!!! :)
Actualities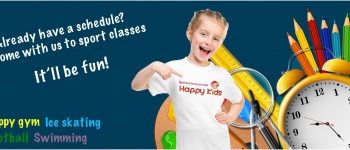 I AM ALSO WITH HAPPY KIDS
Right now you can sign up your kids on favorite sport classes! More info on main page! Kruzky kopia 2.
More info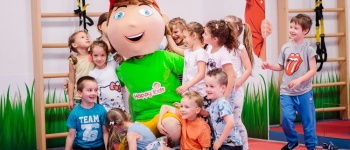 Gymnastics also in Petržalka
Gymnastics also in Petržalka! Dom kultúry Ovsište has become another place for our gymnastics courses. Group trainings for kids from 4 to 8 years. Every Wednesday from 17:30 to 18:30.
More info
Course terms

4.7. - 8.7.2022

Group exercises

5- 17 rokov


Your price

159.00 eur / 5 dní

Course terms

11.7. - 15.7.2022

Group exercises

5 - 17 rokov


Your price

159.00 eur / 5 dní

Course terms

18.7. - 22.7.2022

Group exercises

5 - 17 rokov


Your price

159.00 eur / 5 dní

Course terms

25.7. - 29.7.2022

Group exercises

5 - 17 rokov


Your price

159.00 eur / 5 dní

Course terms

1.8. - 5.8.2022

Group exercises

5 - 17 rokov


Your price

159.00 eur / 5 dní

Course terms

8.8. - 12.8.2022

Group exercises

5 - 17 rokov


Your price

159.00 eur / 5 dní

Course terms

15.8. - 19.8.2022

Group exercises

5 - 17 rokov


Your price

159.00 eur / 5 dní

Course terms

22.8. - 26.8.2022

Group exercises

5 - 17 rokov


Your price

159.00 eur / 5 dní