Swimming pool Petržalka - Budatínska
Swimming pool Petržalka - Budatínska
Group training form
The swimming course is suitable throughout the year. Thanks to different water and air temperatures, the body is hardening. Swimming is one of the best forms of rehabilitation for the spine problems and it also brings relaxing effects for kids, improves their coordination and increases the feeling of satisfaction and happiness.
Our swimming methodology is prepared to prevent stressful situations from fear of water. Our trainers approach individually to every single child. Your kids will learn different styles of swimming and our effort is to improving their performance. That is why we provide both collective and individual swimming courses.
Who is the course suitable for? 
For kids from 3 to 15 years.
In this pool we train children of different ages, of course, they're separated to different groups. Based on the age and level of swimming ability, kids are separated do suitable groups. As soon as we find out that your kids are progressing, we are moving them to more skilled groups. This directs kids to be motivated to discover more of their abilities and skills.
Lesson structure 
- warm up
- swimming exercises 


Swimming pool informations
Pool length: 25m
Water temperature: 30 degrees Celsius
Address: Budatínska 61
Actualities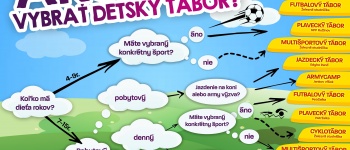 SWIMM JUST FOT 7,50 EUR!
Swimm with us on Tuesdays and Thursdays and get discount. Valid for SWIMMING PETRŽALKA - BUDATINSKA. Course info - http://happykids.
More info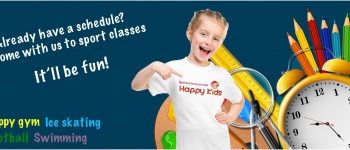 I AM ALSO WITH HAPPY KIDS
Right now you can sign up your kids on favorite sport classes! More info on main page! Kruzky kopia 2.
More info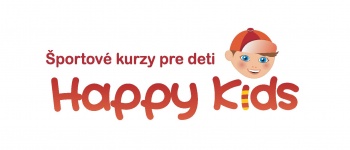 Dancing begin!
Our dance classes are here for you! Music and movement can impact children in many positive ways. Dance is a powerful ally for developing many of the attributes of a growing child. Dance helps children mature physically, emotionally, socially, and cognitively.
More info
Course terms

Kurz od septembra
Utorok 17:00

Group exercises

od 4 rokov
5 detí s trénerom

Your price

72.00 eur / 8 Hour

Course terms

Kurz od septembra
Utorok 18:00

Group exercises

od 4 rokov
5 detí s trénerom

Your price

72.00 eur / 8 Hour

Course terms

Kurz od septembra
Utorok 17:00, 3-ročné deti

Group exercises

3-ročné deti
3 deti s trénerom

Your price

110.00 eur / 8 Hour

Course terms

Kurz od septembra
Streda 17:00

Group exercises

od 4 rokov
5 detí s trénerom

Your price

72.00 eur / 8 Hour

Course terms

Kurz od septembra
Streda 18:00

Group exercises

od 4 rokov
5 detí s trénerom

Your price

72.00 eur / 8 Hour

Course terms

Kurz od septembra
Streda 17:00, 3-ročné deti

Group exercises

3-ročné deti
3 deti s trénerom

Your price

110.00 eur / 8 Hour

Course terms

Kurz od septembra
Štvrtok 17:00

Group exercises

od 4 rokov
5 detí s trénerom

Your price

72.00 eur / 8 Hour

Course terms

Kurz od septembra
Štvrtok 18:00

Group exercises

od 4 rokov
5 detí s trénerom

Your price

72.00 eur / 8 Hour

Course terms

Kurz od septembra
Štvrtok 17:00, 3-ročné deti

Group exercises

3-ročné deti
3 deti s trénerom

Your price

110.00 eur / 8 Hour