In the footsteps of Stiavnica legends (overnight)
In the footsteps of Stiavnica legends (overnight)
Group training form
Do you like nature, walking and exploring new places? "In the footsteps of Stiavnica legends" is a summer kids camp, which bring you to the enviroment of Stiavnica hills and your mission will be to explore, get to know, but also listen or look around the most beautiful places in the area of Banska Stiavnica. Just the name of this camp is saying, that we won´t just sitting, but we will be a lot of time in the nature... 

We will go up the hill to see some views, down the hill to see beautiful lakes, we will play games on the meadow and get to know forests through educational trail. Will we find gold and silver lizard, which are shining on the sun, or the tree, which is guarded by white dog, or the waterman, who is guarding the lake? Or will we find out that thats just legends and myths, which people talking about? We will visit a beautiful places and explore treasures, which are hidden in the Stiavnica hills. Our camp will finish in the nature park AVES, where we will see a lot of animals, but also the show of wild birds.
What is waiting for you?         
- hiking to the highest hill of Stiavnica hills - Sitno , with the beautiful views, where the castle ruin are and Sitnian knights sleeping here (hiking is suitable for children)
- walking trough the Forest educational trail Pocuvadlo/Bansky jarok aroud Pocuvadlo lake where the waterman lives
- trip to the natural park full of animals and beautiful gardens, where the Falconers will show you the show of wild birds
- forest, adventure and sport games, barbeque and swimming in the pool
Come join us to see what Stiavnica offers...
Venues
Cottage Lodiar - Banská Štiavnica
Cottage Lodiar is situated by the lake Pocuvadlo in the beautiful area of Stiavnica hills and 10km from centre of Banska Stiavnica. Accomodation is in the 2 - 5 bed romms with toilet and shower. 
TERMS :         18.07. - 23.07.2021
                        15.08. - 20.08.2021
AGE:                 8 - 15 years
What do you need for a camp:
copy of insurance card
sport clothes: short sleeve T-shirt, long sleeve T-shirt, shorts, pants, hoodie, hiking shoes, socks (2 for each day), underwear, raincoat, repelent, swimsuit, slippers
toiletries, towel
Transportation
individual
common - bus 39€/child (pay in cash before departure, need to be ordered before on info@happykids.sk)
PAYMENT
6 days summer camp - 264€  249€ /child (without transportation)
Discount till 30.04.2021 (activation by coupon)
1 installment   -   15€         (HAPPY15)

2 installments -   10€         (HAPPY10)

3 installments -     5€         (HAPPY5)

 without deposits 0€ 
after using the discout, please make a payment till the end of april
payment is made to the account according to the instructions you will receive by email
price includes:  food and drinking regime for entire day, accommodation, animation program, trips
in case of non-participation due to illness, travel, etc. we do not return the membership fee for the camp. Reimbursement is possible in exchange for another camp at another time, of course, if camp will have free places and capacity won´t be exceed.
GUARANTEE of refunds in case of worsening of the pandemic situation or cancellation of the camp by OZ
GUARANTEE OF SECURE camps. We adhere to strict hygienic standards during implementation.
Camps have a weekly character. Payment is fix, you can't choose days separately.
Contact: 0917 303 658, info@happykids.sk
WE ARE LOOKING FORWARD TO YOU!!! :)
Actualities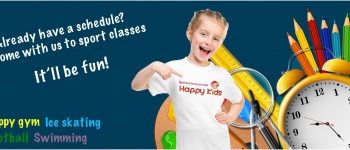 I AM ALSO WITH HAPPY KIDS
Right now you can sign up your kids on favorite sport classes! More info on main page! Kruzky kopia 2.
More info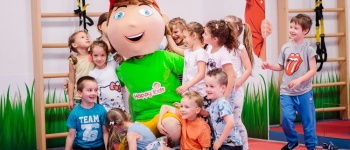 Gymnastics also in Petržalka
Gymnastics also in Petržalka! Dom kultúry Ovsište has become another place for our gymnastics courses. Group trainings for kids from 4 to 8 years. Every Wednesday from 17:30 to 18:30.
More info
Course terms

9.7 - 14.7.2023

Group exercises


8 - 15 rokov

Your price

320.00 eur / 6 dní

Course terms

13.8 - 18.8.2023

Group exercises


8 - 15 rokov

Your price

320.00 eur / 6 dní