HORSE RIDING CAMP, EDY'S RANCH
HORSE RIDING CAMP, EDY'S RANCH
Group training form
This overnight sports and adventure camp, which will take place in the picturesque surroundings of the Orava Reservoir, will bring children breathtaking views of beautiful nature, the company of beautiful horses and good people. For children, there is a rich sports program closely connected with nature, of course, horseback riding under the supervision of experienced instructors, archery and maybe we will play Indians :)
There is nothing to add, if you like horses, you want to enjoy everyday riding or enjoy the beauty of Orava, this is the right camp for you :)
VENUE     Námestovo (Ranč u Edyho), 
CAMP TERMS     2.7. - 7.7.2023 
                             23.7 - 28.7.2023
                             13.8. - 18.8.2023
AGE: from 6 years till 17 years
 THINGS YOU NEED FOR CAMP                       
 copy of insurance card
 cap or hat
 sport clothes: t-shirt, shorts, hoodie, trousers, sport shoes, 
raincoat, swimmsuit, flip flops, repellent
  IMPORTANT INFORMATIONS
 don't forget cap 
 bring copy of insurance card
food and accommodation are provided right at ranch 
drinking regime is secured throughout the whole day
 TRANSPORTATION
individual
common - bus - 44 € / child (need to book in advance by email info@happykids.sk, payment in cash before departure)
 PROGRAM 
horse riding training with professional instructors
archery
water bike
horse riding
tennis
motion - sport preparation 
ship trip
 PAYMENT
6 - days summer camp 320€/chiLD
payment is made to the account according to the instructions you will receive by email

price includes: qualified instructors, food and drinking regime for entire day, accommodation, training tools, horse riding, archery, swimming pool, tennis courts, trip, medals…

in case of non-participation due to illness, travel, etc. we do not return the membership fee for the camp. Reimbursement is possible in exchange for another camp at another time, of course, if camp will have free places and capacity won´t be exceed.
GUARANTEE of refunds in case of worsening of the pandemic situation or cancellation of the camp by OZ
GUARANTEE OF SECURE camps. We adhere to strict hygienic standards during implementation.
Camps have a weekly character (from Monday to Friday). Payment is fix, you can't choose days separately.
Contact: 0917 303 658, info@happykids.sk
WE ARE LOOKING FORWARD TO YOU!!! :)
Actualities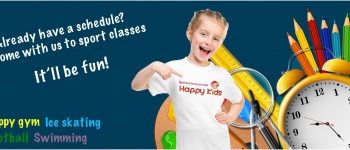 I AM ALSO WITH HAPPY KIDS
Right now you can sign up your kids on favorite sport classes! More info on main page! Kruzky kopia 2.
More info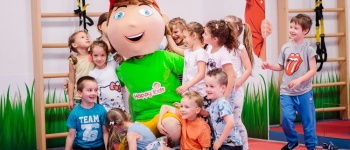 Gymnastics also in Petržalka
Gymnastics also in Petržalka! Dom kultúry Ovsište has become another place for our gymnastics courses. Group trainings for kids from 4 to 8 years. Every Wednesday from 17:30 to 18:30.
More info
Course terms

2.7 - 7.7.2023

Group exercises


6 - 17 rokov

Your price

320.00 eur / 6 dní

Course terms

23.7 - 28.7.2023

Group exercises


6 - 17 rokov

Your price

320.00 eur / 6 dní

Course terms

13.8 - 18.8.2023

Group exercises


6 - 17 rokov

Your price

320.00 eur / 6 dní