More sports
Individuálne tréningy
Group training form
Dôležité: POSTUPNE ZAČÍNAME!
 
Milí priatelia, opatrenia súvisiace s koronavírusom sa postupne začínajú uvoľňovať, preto postupne aj my môžeme obnoviť tréningovú činnosť. Preto Vám a Vašim deťom zatiaľ ponúkame INDIVIDUÁLNE tréningy vonku - INLINE KORČUĽOVANIE, BICYKLOVANIE a TENIS!

Všetky tréningy budú samozrejme prebiehať podľa hygienických nariadení, s rúškami a rukavicami.
Podľa vývoja situácie a v súlade s ďalšími uvoľňovaním opatrení budeme pridávať ďalšie športy a kurzy v malých skupinkách, priebežne Vás budeme informovať.
Deti a rodičia, ktorí nemajú vyčerpané tréningy z aktuálnych kurzov, o svoje tréningy samozrejme neprídu - všetky si môžete nahradiť na našich kurzoch alebo táboroch po upokojení koronasituácie.
Ak máte záujem o aktuálne individuálne tréningy, kontaktujte nás prosím na info@happykids.sk a 0917303658 , aby sme si dohodli termíny.
Ďakujeme a tešíme sa na vás!
Actualities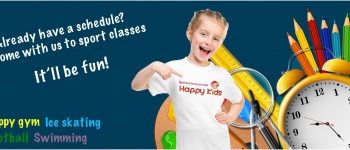 I AM ALSO WITH HAPPY KIDS
Right now you can sign up your kids on favorite sport classes! More info on main page! Kruzky kopia 2.
More info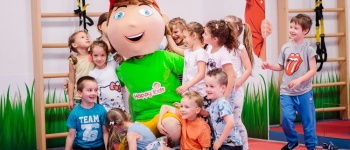 Gymnastics also in Petržalka
Gymnastics also in Petržalka! Dom kultúry Ovsište has become another place for our gymnastics courses. Group trainings for kids from 4 to 8 years. Every Wednesday from 17:30 to 18:30.
More info
Gymnastics
Group training form
Want to have a healthy and happy kids? Happy Gymnastics is here for you! Our experienced trainers will help to improve kids coordination and locomotive functions. Gymnastics is the basis of all sports providing balance, discipline, flexibility. The course is available at location - Mlynské Nivy 44 (3-5 years)
SPORT CENTER Mlynské Nivy 44
- group training
- 3-5 years
Membership fee :
60 eur / 8 hours
Course term :
Thursday 17:00 - 17:50
What do you need : sport clothes, trainers 


CONTACT : 0903 215 366, info@happykids.sk
WE ARE LOOKING FORWARD TO YOU!
Motion preparation - SKIING
Group training form
Motion (skiing) preparation for kids also focus on developing kids confidence, strength, flexibility and cognitive functions.
Our motion program is full of gymnatics, athletics and jumping on trampoline.
TERMS:
MONDAY: 18:00 - 18:50
ŠTVRTOK: 18:00 - 18:50
AGE: from 6 years
VENUE: Mlynské Nivy 44
You can sign up on to course by online sheet  "order"
Happy Kids at SPP
Group training form
Circuit training - Monday, Wednesday, Friday 7:00-8:00; Monday  14:45-15:45
Jumping - Tuesday, Thursday 7:00-8:00
AquaFit - Wednesday  14:45-15:35
Joga - Tuesday 14:45-15:35
Sign up on training with season ticket 
here
.
Course terms

Permanentka 8 vstupov

Group exercises




Your price

26.00 eur / 1 blok: 8 vstupov