Pirates on Danube! (day camp)
Pirates on Danube! (day camp)
Group training form
Would you like to become a member of the pirate crew and try the life of a real pirate? Have you ever heard of Pirates on the Danube?
Two ship captains looking for their new crew come from the distant Caribbean to Bratislava. On the very first day, you will meet these pirates and they will give you the opportunity to sail with them to Tortuza, the only pirate port far and wide. If you decide to board the ship in Tortuza, you will have pirate trials, where you will receive your pirate rank, you will become a full member of the crew and from now you will have many pirate adventures.
By boat you will sail on the stormy waves of the Danube to different islands and to different corners of the river. Somewhere you will find interesting meetings, tasks and competitions, but elsewhere various obstacles and pitfalls where you have to use your pirate knowledge. However, the goal of each pirate is a treasure located on one of the islands of 7 seas. Can you get a mythical pirate treasure and find out what is hidden in it?
Join the pirates too! The number of places are limited!
Venue:         Modrá Čajka, Čunovo
Terms:         26.07. - 30.07.2021
                      09.08. - 13.08.2021
Age:              5 - 10 years
PROGRAM
sailing on a boats on Danube
competitions and pirate games on different islands and places
looking for pirate treasure
swimming in the pool
What do you need for the camp:
bring copy of insurance card

hat, cap
sport clothes (the best is black, red or pirate): short sleeve t-shirt, long sleeve t-shirt, shorts, pants, hoodie, trainers, raincoat
swimsuit, towel
Payment 
5 days summer camp  179€   169€/child
Discount till 30.04.2021 (activation by coupon)
1 installment   -  10€         (HAPPY10)

2 installments -    5€         (HAPPY5)

without deposits 0€ 
after using the discout, please make a payment till the end of april

payment is made to the account according to the instructions you will receive by email

price includes: food and drinking regime for entire day, animation program, sailing, pool

in case of non-participation due to illness, travel, etc. we do not return the membership fee for the camp. Reimbursement is possible in exchange for another camp at another time, of course, if camp will have free places and capacity won´t be exceed.

GUARANTEE of refunds in case of worsening of the pandemic situation or cancellation of the camp by OZ

GUARANTEE OF SECURE camps. We adhere to strict hygienic standards during implementation.
Camps have a weekly character (from Monday to Friday). Payment is fix, you can't choose days separately.
Contact: 0917 303 658, info@happykids.sk
WE ARE LOOKING FORWARD TO YOU!!! :)  
Discount till 30.04.2021 (activation by coupon)
1 installment -   10€         (HAPPY10)

2 installments -   5€         (HAPPY5)

 without deposit 0€ 
Actualities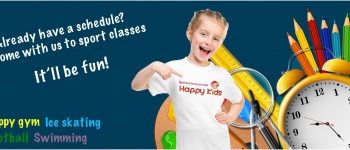 I AM ALSO WITH HAPPY KIDS
Right now you can sign up your kids on favorite sport classes! More info on main page! Kruzky kopia 2.
More info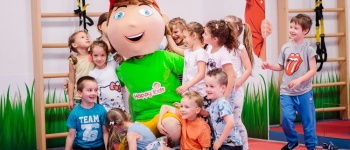 Gymnastics also in Petržalka
Gymnastics also in Petržalka! Dom kultúry Ovsište has become another place for our gymnastics courses. Group trainings for kids from 4 to 8 years. Every Wednesday from 17:30 to 18:30.
More info
Course terms

25.7. - 29.7.2022

Group exercises

5 - 10 rokov


Your price

279.00 eur / 5 dní

Course terms

8.8. - 12.8.2022

Group exercises

5 - 10 rokov


Your price

279.00 eur / 5 dní