SWIMMING - SPORT CAMP
SWIMMING - SPORT CAMP
Group training form
Happy Kids offers you swimming-sport camp at the SPP areal Mlynské Nivy 44. Great sport program daily from 8am till 16:30pm.
This camp is specialized in swimming. Water temperature in swimming pool is 31º C. Daily swim periods (two time per day) and small instructional classes (4-5 campers with one instructor) is what makes this course specific and high value. Drinking regime is secured all day long. At the end of the week camp assessment and BBQ!
CAMP is for kids from 4 years!!!
CAMP TERMS
 every week during July and August!
PROGRAM 
8:00 – 8:45 – kids arrival  – Mlynské Nivy 44
8:45 – 9:00 -  snack
9:00 – 10:30 – snack
10:30 – 11:30 – motion preparation 
11:30 – 12:30 – lunch
12:30 – 13:30 – swimming
14:00 – 14:30 – snack
14:30 – 15:00 – rest
15:00 – 16:00 – athletic preparation
Wednesday  – TRIP
Friday – BBQ/camp assessment 
THINGS YOU NEED FOR CAMP
 copy of insurance card
 cap or hat
 sport clothes: t-shirt, shorts, joggers, hoodie, trainers 
 swimming wear, towel , swimming cap, swimming glasses, flip-flops
IMPORTANT INFORMATIONS 
 please spread kids with UV filter cream in the morning
 don't forget cap 
 bring copy of insurance card
 arrive at least at 8:45am
 food is secured directly at sport areal
drinking regime is secured throughout the whole day
PAYMENT
 camp/150eur
 price includes: certified instructors, food and drinking regime for entire day, training tools, swimming pool, trip, certificate, medals …
 payment is made after booking the camp through our reservation system
Camps have a weekly character (from Monday to Friday). Payment is fix, you can't choose days separately. 
Contact: 0917 303 658, info@happykids.sk
WE ARE LOOKING FORWARD TO YOU!!! :) 
Actualities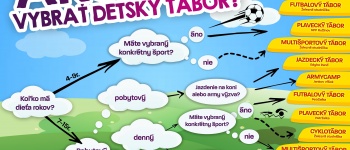 SWIMM JUST FOT 7,50 EUR!
Swimm with us on Tuesdays and Thursdays and get discount. Valid for SWIMMING PETRŽALKA - BUDATINSKA. Course info - http://happykids.
More info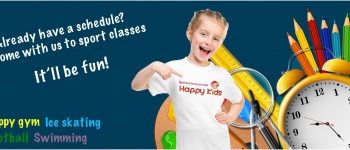 I AM ALSO WITH HAPPY KIDS
Right now you can sign up your kids on favorite sport classes! More info on main page! Kruzky kopia 2.
More info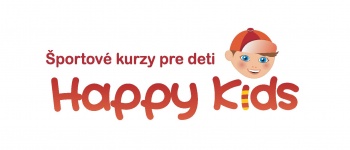 Dancing begin!
Our dance classes are here for you! Music and movement can impact children in many positive ways. Dance is a powerful ally for developing many of the attributes of a growing child. Dance helps children mature physically, emotionally, socially, and cognitively.
More info
Course terms

1.7.-5.7.2019

Group exercises


od 4 rokov

Your price

150.00 eur / 5 dní

Course terms

8.7.-12.7.2019

Group exercises


od 4 rokov

Your price

150.00 eur / 5 dní

Course terms

15.7.-19.7.2019

Group exercises


od 4 rokov

Your price

150.00 eur / 5 dní

Course terms

22.7.-26.7.2019

Group exercises


od 4 rokov

Your price

150.00 eur / 5 dní

Course terms

29.7.-2.8.2019

Group exercises


od 4 rokov

Your price

150.00 eur / 5 dní

Course terms

5.8.-9.8.2019

Group exercises


od 4 rokov

Your price

150.00 eur / 5 dní

Course terms

12.8.-16.8.2019

Group exercises


od 4 rokov

Your price

150.00 eur / 5 dní

Course terms

19.8.-23.8.2019

Group exercises


od 4 rokov

Your price

150.00 eur / 5 dní

Course terms

26.8.-30.8.2019

Group exercises


od 4 rokov

Your price

150.00 eur / 5 dní