More sports
Gymnastics
Group training form
Want to have a healthy and happy kids? Happy Gymnastics is here for you! Our experienced trainers will help to improve kids coordination and locomotive functions. Gymnastics is the basis of all sports providing balance, discipline, flexibility. The course is available at location - Mlynské Nivy 44 (3-5 years)
SPORT CENTER Mlynské Nivy 44
- group training
- 3-5 years
Membership fee :
60 eur / 8 hours
Course term :
Thursday 17:00 - 17:50
What do you need : sport clothes, trainers 


CONTACT : 0903 215 366, info@happykids.sk
WE ARE LOOKING FORWARD TO YOU!
Actualities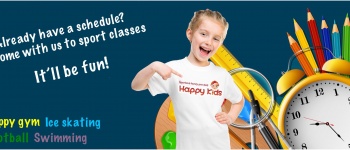 I AM ALSO WITH HAPPY KIDS
Right now you can sign up your kids on favorite sport classes! More info on main page! Kruzky kopia 2.
More info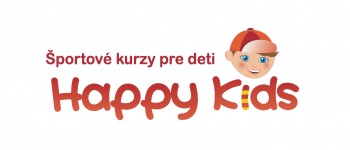 Dancing begin!
Our dance classes are here for you! Music and movement can impact children in many positive ways. Dance is a powerful ally for developing many of the attributes of a growing child. Dance helps children mature physically, emotionally, socially, and cognitively.
More info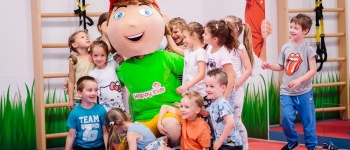 Gymnastics also in Petržalka
Gymnastics also in Petržalka! Dom kultúry Ovsište has become another place for our gymnastics courses. Group trainings for kids from 4 to 8 years. Every Wednesday from 17:30 to 18:30.
More info
Happy Kids at SPP
Group training form
Circuit training - Monday, Wednesday, Friday 7:00-8:00; Monday  14:45-15:45
Jumping - Tuesday, Thursday 7:00-8:00
AquaFit - Wednesday  14:45-15:35
Joga - Tuesday 14:45-15:35
Sign up on training with season ticket 
here
.
Course terms

Permanentka 8 vstupov

Group exercises




Your price

26.00 eur / 1 Hour
Motion preparation - SKIING
Group training form
Motion (skiing) preparation for kids also focus on developing kids confidence, strength, flexibility and cognitive functions.
Our motion program is full of gymnatics, athletics and jumping on trampoline.
TERMS:
MONDAY: 18:00 - 18:50
ŠTVRTOK: 18:00 - 18:50
AGE: from 6 years
VENUE: Mlynské Nivy 44
You can sign up on to course by online sheet  "order"